Ghost Rider: Spirit of Vengeance
USA 2011 – 95min.
Movie Rating
Ghost Rider: Spirit of Vengeance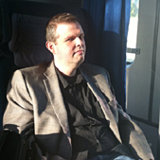 Nicolas Cage returns as Johnny Blaze, the biker with the flaming skull from the underworld.
Johnny Blaze (Nicolas Cage) has suffered under the Ghost Rider curse for years. The fire demon inside him keeps breaking free, causing death and destruction. But Blaze won't stop trying to find a way to get free of the demon, until he suddenly needs him: he must protect a 10-year-old boy from the devil and can only survive the lackeys of hell as the Ghost Rider. And so begins a merciless battle for the soul of an innocent child.

Nicolas Cage returns as the biker from the underworld. Although it was successful at the box office, the first movie counts as one of the worst movies of all time. Ghost Rider 2 isn't as bad as it predecessor, thanks to action-packed scenes by Crank-directors Mark Neveldine and Brian Taylor.
Your rating
Comments
More movie reviews