Der Goalie bin ig
Switzerland 2014 – 92min.
Movie Rating
Der Goalie bin ig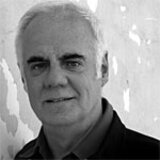 The story of an addict named "Goalie", set in the 1980's. Adapted from the novel by Pedro Lenz.
Thirty-something Ernst is called Goalie by his friends. He's a bit of a slacker, but he's also a great wit and a free spirit. After a stint in prison, he's ready to clean up his act, starting with a job at a waste disposal site. Goalie falls for a tough waitress named Regula, but that doesn't make his life easier, because she has yet to fall for him. Luckily, Goalie can take a punch; one hit after another still doesn't send him down. He pulls himself up by the ropes and finds a close friend in a distrustful local policeman, of all people.

Director Sabine Boss has turned Pedro Lenz's clever dialect novel into an excellent film. Marcus Signer's performance as the imperfect outsider is impressive. Der Goalie bin ig offers cinematic precision that is still all too rare in Swiss movies. Congratulations!
Your rating
Comments
More movie reviews