Vijay and I
Belgium 2013 – 96min.
Movie Rating
Vijay and I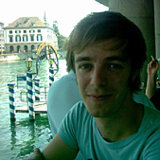 Moritz Bleibtreu as an unhappy small-time actor who is declared dead by mistake. Starring Patricia Arquette.
Bleibtreu plays TV actor Will, who makes a living in a green bunny suit on a kid's show and has had more than enough. Things aren't great at home, either: his marriage to Julia (Patricia Arquette) is stagnant and his daughter Lily is in full, disinterested puberty. But chance offers Will a new beginning when the man who stole his car is killed in an accident and Will is the one declared dead. With the help of his friend Rad, Will transforms himself into the Indian gentleman Vijay – complete with turban and grey beard.

A cross between a comedy about mistaken identity and a love story, Vijay and I is no more than simple entertainment, sometimes emotionally moving, but nowhere near as spot on and bittersweet as Garbarski's previous hit, Irina Palm. At least the lame Bollywood clichés and boring gags are mostly held in check, instead offering actual new ideas and a bit of charm.
Your rating
Comments
More movie reviews