Hansel and Gretel: Witch Hunters
Germany, USA 2013 – 83min.
Movie Rating
Hansel and Gretel: Witch Hunters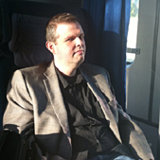 Hansel and Gretel go into business as fearless witch hunters. Starring Jeremy Renner.
As children, Hansel (Jeremy Renner) and Gretel (Gemma Arterton) are able to escape the evil witch that caught them and they kill her in the bargain. What follows is a lucrative career as witch hunters. The siblings travel from one country to another, bringing down all kinds of nasty creatures. Then they are called to Augsburg, where several children have been kidnapped by the evil queen Muriel (Famke Janssen), who wants to take advantage of the upcoming Blood Moon to change the relationship between good and evil forever.

Updating old fairy tale characters is currently a big trend in Hollywood and American television. Norwegian director Tommy Wirkola (Dead Snow) jumps on the bandwagon by turning Hansel and Gretel into witch hunters. And sticks to the tricks he knows best: fantasy splatter with thrilling action scenes. This fairy tale is not for children. And although it cost $50 million, is has the look and feel of a B movie – in a good way.
Your rating
Comments
More movie reviews