This Means War
USA 2012 – 94min.
Movie Rating
This Means War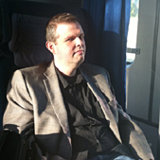 Two men fight over a woman, destroying New York City in the process. Action-comedy with Reese Witherspoon and Tom Hardy.
FDR (Chris Pine) and Tuck (Tom Hardy) are two of the CIA's best agents. But their last case went wrong, so they've been transferred to desk jobs. There they concentrate on their own private war: they're both in love with the same woman and are trying to win her heart. To do so, they use all the high-tech weapons at their disposal, but they haven't noticed that a top terrorist (Til Schweiger), whose brother they killed, is out to get them.

With the ad campaign trying to remind audiences of Mr. and Mrs. Smith and action specialist McG in the director's chair, all should be well. But This Means War is more of a romantic comedy with a bit of action. Not very original, but still entertaining.
Your rating
Comments
More movie reviews