Der Sandmann
Switzerland 2011 – 88min.
Movie Rating
Der Sandmann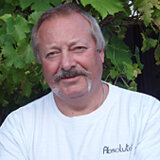 Swiss oddball comedy by Peter Luisi: Benno suddenly leaks sand and dreams about his annoying neighbor.
Sandra (Frölein Da Capo alias Irene Brügger) manages a cafe, frequented by Benno (Fabian Krüger). It drives him crazy when she practices her musical instruments late at night, but she dreams of becoming a one-woman-orchestra, while he dreams of a career as a conductor. Benno works in a store that sells rare stamps and is a notorious liar who mainly betrays himself. One day he begins to lose sand, from his sleeve, from his pant legs, whenever he doesn't tell the truth.

This oddball fairytale by Peter Luisi is funny, charming and crazy in a very un-Swiss way. The curious romance especially offers a wonderful stage for Frölein Da Capo alias Irene Brügger.
Your rating
Comments
More movie reviews