Contest
Vorpremiere: Das schönste Mädchen der Welt
Ab dem 6. September im Kino!

Gewinne jetzt 2 von 30 Tickets für die Vorpremieren in Zürich, Basel oder Bern mit anschliessendem Fotocall mit den Talents! (voraussichtlich nur in Zürich und Bern)

Details zu den Vorpremieren:

• Zürich: Donnerstag, 30. August, 18 Uhr – Arena Sihlcity
• Bern: Freitag, 31. August, 17.30 Uhr – Pathé Westside
• Basel: Freitag, 31. August, 20.30 Uhr – Pathé Küchlin



Roxy (Luna Wedler) ist neu in der Klasse und verdreht gleich allen Jungs den Kopf. Die schlagfertige 17-Jährige ist gerade von ihrer alten Schule geflogen und hat null Bock auf die anstehende Klassenfahrt nach Berlin. Im Bus freundet sie sich mit dem sensiblen Aussenseiter Cyril (Aaron Hilmer) an, der sie mit seinem Wortwitz überrascht. Cyril ist sofort Feuer und Flamme, rechnet sich aber keine Chancen aus, denn er wird von allen wegen seiner grossen Nase verspottet. Roxy interessiert sich ausserdem mehr für den attraktiven Rick (Damian Hardung). Blöderweise ist der ein geistiger Tiefflieger und bringt keine drei Worte am Stück raus. Als auch noch Aufreisser Benno (Jonas Ems) ein Auge auf Roxy wirft, startet Cyril eine waghalsige Verkupplungsaktion, um Roxy vor Bennos falschem Spiel zu schützen: Er schreibt für Rick coole Songs und romantische SMS, damit dieser bei Roxy ganz gross auftrumpft. Wer wird am Ende das Herz des "schönsten Mädchen der Welt" erobern?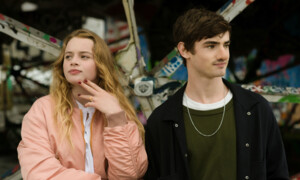 to win:
Je 5 mal 2 Tickets für die Vorpremiere des Films in Zürich, Bern oder Basel
Quiz question:
Für welche Stadt möchtest du gerne Tickets gewinnen?
conditions of participation:
No obligatory purchase. No correspondence. All decisions are final. The closing date for entries is 27. August 2018. The winners will be notified in person, and their identities may be publicised. Only one contest entry per person is allowed.