Contest
The Shape of Water
Ab dem 15. Februar im Kino!



Der meisterhafte Geschichtenerzähler Guillermo del Toro inszeniert mit The Shape Of Water ein übernatürliches Märchen, das circa 1963 vor dem Hintergrund des Kalten Krieges in Amerika spielt. Im versteckten Hochsicherheitslabor der Regierung arbeitet die einsame Elisa (Sally Hawkins) gefangen in einem Leben der Stille und Isolation. Elisas Leben ändert sich für immer, als sie und ihre Kollegin Zelda (Octavia Spencer) ein als geheim eingestuftes Experiment entdecken.

Mehr Bilder und Informationen zum Film unter www.instagram.com/warnerfox_ch und www.facebook.com/ILikeDramaMovies.ch

© 2018 Twentieth Century Fox Film Corporation. All Rights Reserved.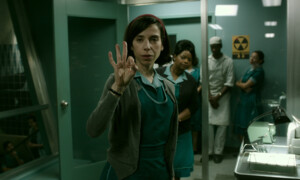 to win:
3 times 1 Goodie-Set mit Langarmshirt, wärmewechselnder Tasse und Buch aus Hochglanzpapier
Quiz question:
Wo arbeitet Elisa?
conditions of participation:
No obligatory purchase. No correspondence. All decisions are final. The closing date for entries is 13. February 2018. The winners will be notified in person, and their identities may be publicised. Only one contest entry per person is allowed.