Contest
The Legend of Zelda
Um den 35. Geburtstag der Geschichte Zeldas zu feiern, hat Nintendo das «Game & Watch: The Legend of Zelda» auf den Markt gebracht. Käuflich seit dem 12. November, verlosen wir nun zwei Minikonsolen.

Mit seinem Retro-Stil, legendären Verzierungen und der Macht, Hyrule zu retten, feiert dieses «Game & Watch: The Legend of Zelda» Gerät die 35 Jahre der The Legend of Zelda-Reihe. Erlebe drei klassische Abenteuer und spassige nostalgische Momente mit dieser schicken Handheld-Konsole. Die Konsole ist perfekt für Spieler und Sammler und enthält die englischen und japanischen Fassungen der Spiele. «The Legend of Zelda»: Erkunde Hyrule und vertreibe Ganon im Original-Spiel, mit dem 1987 alles begann.
«Zelda II: The Adventure of Link»: In der Side-Scroller-Fortsetzung aus dem Jahr 1988 bewegst du dich durch eine fantastische Welt voller Dungeons.
«The Legend of Zelda: Link's Awakening»: Erwecke den schlafenden Windfisch im ersten vollumfänglichen The Legend of Zelda-Spiel für eine Handheld-Konsole, in der Game Boy-Version von 1993. Neben der englischen und der japanischen Version kannst du dieses Spiel auch in der deutschen oder französischen Fassung spielen.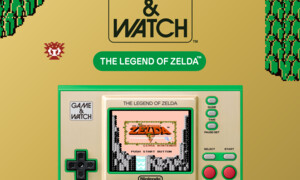 to win:
1 times 2 Minikonsolen
Quiz question:
In welchem Land wurde «Zelda» konzipiert?
conditions of participation:
No obligatory purchase. No correspondence. All decisions are final. The closing date for entries is 26. January 2022. The winners will be notified in person, and their identities may be publicised. Only one contest entry per person is allowed.