Contest
The Favourite
Ab dem 24. Januar im Kino!



England befindet sich im frühen 18. Jahrhundert im Krieg mit Frankreich, doch Entenrennen und der Genuss von Ananas erfreuen sich wachsender Beliebtheit. Die gebrechliche Königin Anne (Olivia Colman) sitzt zwar auf dem Thron, doch ihre enge Freundin Lady Sarah (Rachel Weisz) regiert das Land an ihrer Stelle und kümmert sich auch noch um Annes Gesundheit und ihre sprunghaften Launen. Als das neue Dienstmädchen Abigail (Emma Stone) ihre Stelle antritt, schmeichelt sie sich schnell bei Sarah ein. Sarah nimmt Abigail unter ihre Fittiche und Abigail sieht ihre Chance, zu ihren aristokratischen Wurzeln zurückzukehren. Als die politischen Auseinandersetzungen Sarah zeitlich immer mehr in Anspruch nehmen, nimmt Abigail ihren Platz ein und fungiert fortan als Vertraute der Königin. Die aufkeimende Freundschaft gibt Abigail nun die Möglichkeit, ihre ehrgeizigen Ziele zu verwirklichen, und sie wird nicht zulassen, dass eine Frau, ein Mann, Politik oder sonst irgendetwas sich ihr in den Weg stellen.

Mehr Informationen zum Film unter www.instagram.com/warnerfox_ch, www.facebook.com/ILikeDramaMovies.ch und www.thefavouritederfilm.ch.

© 2019 Twentieth Century Fox Film Corporation. All Rights Reserved.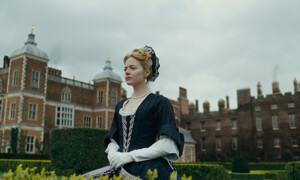 to win:
2 times 1 Goodie-Set mit einem Kartenspiel und 2 Kinotickets für den Film
Quiz question:
Welche der drei Schauspielerinnen in «The Favourite» erhielt einen Golden Globe für ihre Rolle im Film?
conditions of participation:
No obligatory purchase. No correspondence. All decisions are final. The closing date for entries is 25. January 2019. The winners will be notified in person, and their identities may be publicised. Only one contest entry per person is allowed.