Contest
Spiral: From the Book of Saw
Ab dem 16. September im Kino!





Es sind grosse Fussstapfen, die der angesehenen Polizeiveteran (Samuel L. Jackson) hinterlassen hat. Doch der ungestüme Detective Zeke Banks (Chris Rock) und sein neuer Partner William Schenk (Max Minghella) nehmen die Herausforderung an. Sie leiten eine Untersuchung von mehreren Morden, die auf unheimliche Weise an die grausame Vergangenheit der Stadt erinnern. Ohne es zu merken manövrieren sich die beiden immer weiter in das mysteriöses Geheimnis der Mordfälle und finden sich bald im Zentrum des morbiden Spiels des gnadenlosen Killers wieder. [Pressetext]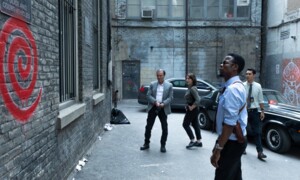 to win:
3 times 2 Tickets für den Film
Quiz question:
Welches Tier taucht immer wieder auf?
conditions of participation:
No obligatory purchase. No correspondence. All decisions are final. The closing date for entries is 19. September 2021. The winners will be notified in person, and their identities may be publicised. Only one contest entry per person is allowed.