Contest
Spider-Man: New Generation
Au cinéma le 12 décembre !
SPIDER-MAN: INTO THE SPIDER-VERSE raconte les aventures de Miles Morales, un adolescent aux origines afro-américaine et portoricaine de Brooklyn tentant de s'intégrer dans une nouvelle école privée de Manhattan.

Le père de Miles est un policier exemplaire et sa mère est une infirmière dévouée. Parents aimants et fiers des réalisations de leur fils, ils veulent le voir réussir dans le nouvel établissement scolaire réservé aux étudiants surdoués. Cependant, Miles a des difficultés d'adaptation. Il préfère passer du temps avec ses amis du quartier ou rendre visite à son oncle Aaron, qui encourage ses talents d'artiste de graffiti. Même si Miles idolâtre ce dernier, Aaron, aussi charmant qu'il soit, est un être complexe qui, autrefois, a connu des problèmes avec la justice. La vie de Miles se complique encore davantage lorsqu'il est mordu par une araignée radioactive et se retrouve en possession de super-pouvoirs qui incluent entre autres le «venom strike», le camouflage, la capacité de se coller aux objets, une ouïe incroyable et le «Spidey sense». Pendant ce temps, Kingpin, le génie du crime régnant sur la ville, a développé un super collisionneur nucléaire ultra-secret ouvrant un portail vers d'autres univers et permettant à différentes versions de Spider-Man (notamment un Peter Parker plus âgé, Spider-Gwen, Spider-Man Noir, Spider-Ham et Peni Parker, un personnage de dessin animé) de faire irruption dans le monde de Miles.
© Sony Pictures Switzerland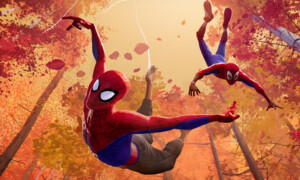 to win:
5 times 1 set contenant 2 places de cinéma et des écouteurs
Quiz question:
Quel duo signe la réalisation de Spider-Man: New Generation ?
conditions of participation:
No obligatory purchase. No correspondence. All decisions are final. The closing date for entries is 17. December 2018. The winners will be notified in person, and their identities may be publicised. Only one contest entry per person is allowed.