Contest
Shaun das Schaf – der Film: Ufo-Alarm
Ab dem 26. September im Kino!



Seltsame Lichter über dem verschlafenen Städtchen Mossingham kündigen die Ankunft eines geheimnisvollen Besuchers aus einer fernen Galaxie an... Aber auf der nahe gelegenen Mossy Bottom Farm hat Shaun ganz andere Dinge im Kopf, denn ständig werden seine verrückten Streiche von einem entnervten Bitzer vereitelt. Doch als plötzlich ein ebenso lustiges wie bezauberndes Ausserirdischen- Mädchen mit erstaunlichen Kräften in der Nähe der Farm bruchlandet, erkennt Shaun sofort die einmalige Chance: mit Hilfe der Ausserirdischen kann er jede Menge neue Spässe und Abenteuer anstellen! Gleichzeitig ist es aber auch der Beginn einer Mission, die Ausserirdische wieder sicher nach Hause zu bringen...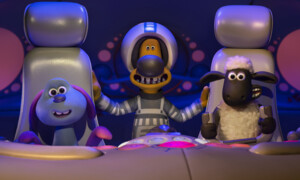 to win:
3 times 1 Goodie-Set mit 4 Kinotickets, Brettspiel, Stiftmäppchen, Schlüsselanhänger und Shaun-Plüschtier
Quiz question:
Wie heisst der Hof, auf dem Shaun und Co. leben?
conditions of participation:
No obligatory purchase. No correspondence. All decisions are final. The closing date for entries is 24. September 2019. The winners will be notified in person, and their identities may be publicised. Only one contest entry per person is allowed.