Contest
Rambo: Last Blood
Ab dem 22. Januar auf Blu-Ray und DVD!



Der ehemalige Vietnamveteran muss sich in Rambo 5: Last Blood nicht nur einem mexikanischen Menschenhandelsring stellen, sondern wird auch mit seiner Vergangenheit konfrontiert: Rambo versucht auf der Farm seiner Eltern ein friedliches Leben zu führen. Nachdem jedoch die Tochter seiner Haushälterin von Menschenhändlern entführt wird, reist Rambo gemeinsam mit der Ex-Soldatin und Journalistin Carmen (Paz Vega) nach Mexiko. Dabei gerät er an den Kartellboss Hugo Martinez und dessen Bruder Victor. Bald findet sich Rambo in einem brutalen Kampf gegen die Kartellschergen wieder.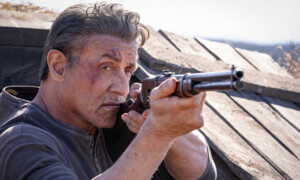 to win:
3 times 1 Blu-Ray zum Film
Quiz question:
Wem muss sich Rambo stellen?
conditions of participation:
No obligatory purchase. No correspondence. All decisions are final. The closing date for entries is 3. February 2020. The winners will be notified in person, and their identities may be publicised. Only one contest entry per person is allowed.