Contest
Puzzle
Ab dem 27. Dezember im Kino!



Es ist Agnes' Geburtstag: Während sich ihre Gäste im Wohnzimmer köstlich amüsieren, steht sie Teller schrubbend in der Küche und serviert den Kuchen. Seit Jahren haben die Bedürfnisse ihrer beiden pubertierenden Kinder sowie die ihres gemütlichen Ehemanns Priorität. Als sie nach dem kräftezehrenden Geburtstagsfest unter ihren Geschenken ein tausendteiliges Puzzle entdeckt und sich neugierig daranmacht, es zusammenzusetzen, stellt sie überrascht fest, dass sie es schon nach wenigen Stunden lösen konnte – und zwar gleich zweimal! Als sie kurz darauf auf das Inserat eines gleichfalls begeisterten Puzzlers stösst, der einen Partner für einen bevorstehenden Contest sucht, bietet sich ihr die Gelegenheit, ihr neu entdecktes Talent zu vertiefen. Wenig später steht Agnes bei dem genauso geheimnisvollen wie charismatischen Erfinder – und Puzzler – Robert auf der Matte. Der Beginn einer Emanzipation.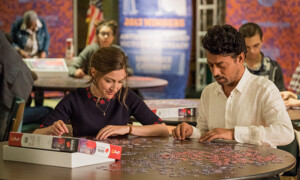 to win:
3 times 2 Tickets für den Film
Quiz question:
In welchem Verhältnis steht Robert zu Agnes?
conditions of participation:
No obligatory purchase. No correspondence. All decisions are final. The closing date for entries is 26. December 2018. The winners will be notified in person, and their identities may be publicised. Only one contest entry per person is allowed.