Contest
«Paper Mario: The Origami King» für die Nintendo Switch
Seit dem 17. Juli für die Nintendo Switch!

Der Origami-König hat die Macht an sich gerissen! Seine Faltschergen haben Toad Town auf den Kopf gestellt, während er Prinzessin Peach und viele weitere in Origami verwandelt hat! Und als wäre das noch nicht genug, hat er Prinzessin Peachs Schloss ausgerissen und mit magischen Luftschlangen versiegelt!
Keine leichte Aufgabe für unseren rotbemützten Helden… Zum Glück kann Mario auf die Hilfe von Ollys kleiner Schwester Olivia zählen. Mit Unterstützung einiger unerwarteter Gefährten ziehen sie los, um den Origami-König daran zu hindern, die Welt nach seinen Wünschen zu falten.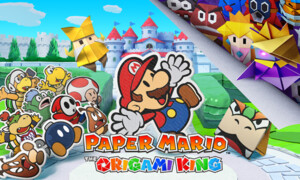 to win:
2 times 1 «Paper Mario – The Origami King» für die Nintendo Switch
Quiz question:
Wer ist Olivia?
conditions of participation:
No obligatory purchase. No correspondence. All decisions are final. The closing date for entries is 12. August 2020. The winners will be notified in person, and their identities may be publicised. Only one contest entry per person is allowed.