Contest
Midway
Ab sofort auf Blu-Ray und DVD erhältlich!



Nach dem Überfall auf Pearl Harbor, bei dem viele seiner Kameraden ums Leben gekommen sind, drängt es den Haudegen Dick Best umso mehr, Vergeltung zu üben und sein bedrohtes Land zu verteidigen. US-Offizier Layton hatte vor dem Angriff gewarnt, doch man hatte nicht auf ihn gehört. Der neue Oberkommandierende der Flotte, US-Admiral Nimitz, setzt nun auf Layton und seine Expertise. Mit Erfolg: Der Plan des japanischen Admirals Yamamoto, den äussersten westlichen Vorposten der USA, die Midway-Inseln, zu attackieren, wird vereitelt. Die Amerikaner lassen die Japaner in die Falle gehen. Es kommt zum grossen Vergeltungsschlag...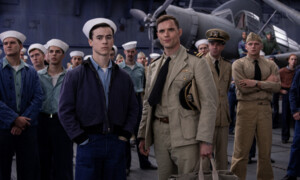 to win:
3 times 1 Blu-Ray zum Film
Quiz question:
Gegen die feindlichen Truppen aus welchem Lande muss sich die amerikanische Flotte verteidigen?
conditions of participation:
No obligatory purchase. No correspondence. All decisions are final. The closing date for entries is 30. March 2020. The winners will be notified in person, and their identities may be publicised. Only one contest entry per person is allowed.