Contest
Encanto
Ab dem 24.11 im Kino! Gewinne 5 Encanto-Schneeflitzer



Manchmal fühlt sich Mirabel richtiggehend fehl am Platz im Familiensitz der Madrigals. Immerhin ist sie die Einzige ihrer Sippe, die keine übermenschliche Fähigkeit besitzt. Als sie erkennt, dass die Magie ihres verwunschenen, in den kolumbianischen Bergen versteckten Heimatortes bedroht ist, zögert sie nicht, Nachforschungen anzustellen. Sogar gegen den Willen ihrer Oma, die über die Gemeinschaft wacht.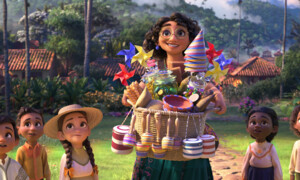 to win:
5 times 1 Encanto Schneeflitzer
Quiz question:
Auf welches Abenteuer lässt sich Maribel Madrigal ein?
conditions of participation:
No obligatory purchase. No correspondence. All decisions are final. The closing date for entries is 8. December 2021. The winners will be notified in person, and their identities may be publicised. Only one contest entry per person is allowed.