Contest
«Der Super Mario Bros. Film»
Ab dem 5. April 2023 in den Schweizer Kinos.


Mit DER SUPER MARIO BROS. FILM (3D) präsentieren Illumination und Nintendo eine so actiongeladene wie abgedrehte Animationskomödie, basierend auf den Kultvideospielen! Bei unterirdischen Reparaturarbeiten werden die Klempner Mario und Luigi durch eine geheimnisvolle Röhre in eine magische neue Welt gesaugt. Als die Brüder dort getrennt werden, begibt Mario sich auf eine gigantische Reise, um Luigi zu finden.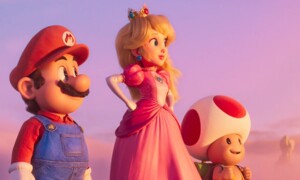 to win:
3 times 1 Mario Cap, 3 times 1 Toad Cushion, 3 times 1 Backpack
Quiz question:
Wie heisst der Bösewicht gegen den Mario kämpft?
conditions of participation:
No obligatory purchase. No correspondence. All decisions are final. The closing date for entries is 5. April 2023. The winners will be notified in person, and their identities may be publicised. Only one contest entry per person is allowed.