Contest
Der geheime Garten
Ab dem 7. Oktober im Kino!



Die in Indien lebende, zehnjährige Britin Mary Lennox (Dixie Egerickx) wird nach dem plötzlichen Tod ihrer Eltern auf das tief in den Yorkshire Moors gelegene Landgut ihres Onkels Archibald (Colin Firth) geschickt. Weder der Onkel noch die Haushälterin (Julie Walters) interessieren sich für das Mädchen. Die Geheimnisse in dem grossen Haus mit den verschlossenen Zimmern wecken schnell Marys Neugier. Sie erfährt von einem geheimen Garten, den seit zehn Jahren niemand betreten hat und macht sich auf die Suche. Aber was sie findet, ist weitaus mehr als irgendein Garten! Gemeinsam mit ihrem kränklichen Cousin Colin (Edan Hayhurst) und ihrem neugewonnenen Freund Dickon (Amir Wilson) entdeckt sie eine farbenprächtige und nahezu magische Welt, die nicht nur ihr eigenes Leben von Grund auf verändern wird... [Pressetext]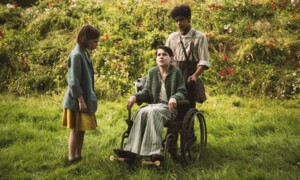 to win:
3 times 1 Goodie-Set mit einem Buch, Buntstiften, einem Malbuch und einem Jutebeutel sowie 2 Tickets für den Film
Quiz question:
Wo hat Mary Lennox gelebt, bevor sie auf das englische Landgut ihres Onkels kam?
conditions of participation:
No obligatory purchase. No correspondence. All decisions are final. The closing date for entries is 5. October 2020. The winners will be notified in person, and their identities may be publicised. Only one contest entry per person is allowed.