Contest
Deine Juliet
Seit dem 9. August im Kino!

London in den späten vierziger Jahren. Eines Tages erhält die weltoffene Journalistin Juliet Ashton (Lily James) einen sonderbaren Brief, dessen Absender Dawnsey Adams (Michiel Huisman) ist – ein charmanter und exzentrischer Bauer, der auf der Insel Guernsey lebt. Ein Briefwechsel entspinnt sich, in dessen Verlauf Juliet von der Existenz des Clubs "Guernseyer Freunde von Dichtung und Kartoffelschalenauflauf" erfährt. Die literarische Gesellschaft wurde von einigen Inselbewohnern – ungeübten Lesern – gegründet, um sich über die schweren Zeiten während der deutschen Besatzung im 2. Weltkrieg auf den Kanalinseln hinwegzuhelfen. Juliet beschliesst über den Club zu schreiben und nach Guernsey zu reisen. Ihr Aufenthalt dort und die Begegnung mit Dawsey wird ihr Leben für immer verändern…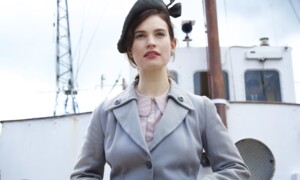 to win:
4 times 1 Buch zum Film und 2 Tickets
Quiz question:
Über was möchte Juliet schreiben?
conditions of participation:
No obligatory purchase. No correspondence. All decisions are final. The closing date for entries is 17. August 2018. The winners will be notified in person, and their identities may be publicised. Only one contest entry per person is allowed.