Contest
Coco
Miguel, 12 ans, rêve de devenir un musicien aussi accompli que son idole Ernesto De La Cruz. Mais une sombre histoire trouble la famille depuis des lustres à tel point qu'elle en aura banni la musique. Les rêves ont la vie dure, Miguel est confronté à son destin de cordonnier mais par une étrange curiosité du hasard, le voilà projeté dans l'antre fabuleux du royaume des Morts. Accompagné du truculent Hector, il s'engage dans une épopée féérique sur les traces de son idole, dépoussiérant au passage les secrets de familles... En DVD et Blu-ray le 15 Mars.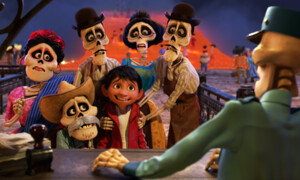 to win:
3 times 1 Blu-Ray de Coco
Quiz question:
Quel est le nom de l'inconditionnel des studios Disney.Pixar et réalisateur de Coco?
conditions of participation:
No obligatory purchase. No correspondence. All decisions are final. The closing date for entries is 22. March 2018. The winners will be notified in person, and their identities may be publicised. Only one contest entry per person is allowed.