Contest
C'est magnifique !
Au cinéma le 1er juin !
Pierre, la quarantaine, a toujours vécu loin des désordres du monde, entre ses abeilles et ses hibiscus. Lorsque ses parents disparaissent, c'est tout son univers qui bascule : il découvre qu'il a été adopté et doit apprendre à survivre dans une société moderne qu'il n'a jamais connue. Déterminé à élucider le mystère de ses origines, il croise la route d'Anna qui, touchée par la bienveillance de cet homme pas comme les autres, accepte de l'aider. Mais à mesure qu'il progresse dans son enquête, Pierre se décolore comme par enchantement.

© JMH Distributions SA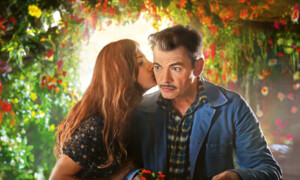 to win:
5 times 2 places pour découvrir le film au cinéma
Quiz question:
Dans ce nouveau film de Clovis Cornillac, quels membres de la famille de Pierre disparaissent ?
conditions of participation:
No obligatory purchase. No correspondence. All decisions are final. The closing date for entries is 30. May 2022. The winners will be notified in person, and their identities may be publicised. Only one contest entry per person is allowed.