Contest
«Ariaferma»
Ab dem 9. Dezember 2022 in den Schweizer Kinos.


An einem unzugänglichen und abgelegenen Ort in Italien soll ein altes Gefängnis aus dem neunzehnten Jahrhundert geräumt werden, als die Bürokratie in die Quere kommt. Zusammen mit einer Handvoll Beamter werden ein Dutzend Häftlinge in einer schwebenden Blase zurückgelassen, wo Regeln verschwimmen und neue Beziehungen entstehen. [Pressetext]
Die Veranstaltung findet am Freitag, 9. Dezember, um 20 Uhr im Kino Xenix in Zürich statt, in Anwesenheit des Regisseurs Leonardo Di Constanzo.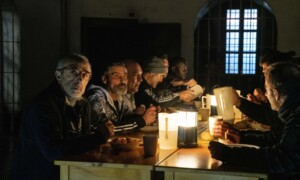 to win:
2 times 2 Kinotickets für den Film in Anwesenheit des Regisseurs Leonardo Di Constanzo
Quiz question:
Welches beunruhigende Ereignis geschieht im Gefängnis?
conditions of participation:
No obligatory purchase. No correspondence. All decisions are final. The closing date for entries is 5. December 2022. The winners will be notified in person, and their identities may be publicised. Only one contest entry per person is allowed.