Contest
Animal Crossing: New Horizons
Ab dem 20. März für die Nintendo Switch!



Manchmal ist das moderne Leben einfach zu hektisch. Doch für alle Fans von Animal Crossing gib's jetzt das Reif-für-die-Insel-Paket. Im ersten Nintendo Switch-Spiel der Kultserie erwartet dich eine einsame Insel mit unberührter Natur, absolute Freiheit und jede Menge Möglichkeiten kreativ zu werden können. Du kannst Strandspaziergänge machen, das idyllische Eiland erkunden und dabei per Sprungstab Bäche überqueren. Vor allem kannst du die Ärmel hochkrempeln und die Inselwelt ganz nach Wunsch gestalten. Du sammelst Material und baust daraus Häuser, Möbel, Werkzeuge oder was immer dir einfällt. Wer mag, darf sogar die Landschaft möblieren – und alle mit einem grünen Daumen, können Hobbygärtner werden oder sich mit Bäumen und Blumen austauschen. Die Nintendo Switch-Fans freunden sich mit Neuankömmlingen an und können gemeinsam mit bis zu acht FreundInnen die Jahreszeiten in ihrem Inselparadies genießen.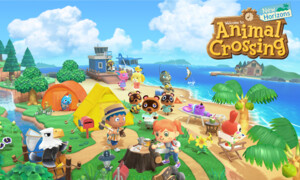 to win:
3 times 1 «Animal Crossing – New Horizons» für die Nintendo Switch
Quiz question:
Was ist die maximale Spieleranzahl in «Animal Crossing: New Horizons»?
conditions of participation:
No obligatory purchase. No correspondence. All decisions are final. The closing date for entries is 10. April 2020. The winners will be notified in person, and their identities may be publicised. Only one contest entry per person is allowed.