Contest
And Then We Danced
Ab dem 25. Juni im Kino!



Merab trainiert seit jungen Jahren mit seiner Tanzpartnerin Mary am nationalen georgischen Ensemble. Als der charismatische und sorgenfreie Irakli auftaucht wird Merabs Welt plötzlich auf den Kopf gestellt und Irakli wird zu seinem grössten Rivale, wie auch zu seiner grössten Leidenschaft. In diesem konservativen Umfeld will Merab ausbrechen und muss dafür alles riskieren.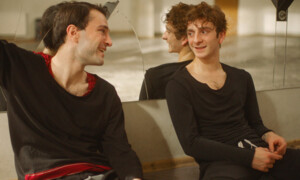 to win:
3 times 2 Tickets für den Film
Quiz question:
Wer ist Mary?
conditions of participation:
No obligatory purchase. No correspondence. All decisions are final. The closing date for entries is 6. July 2020. The winners will be notified in person, and their identities may be publicised. Only one contest entry per person is allowed.