Contest
All Inclusive
Au cinéma le 13 février

Planté par sa fiancée à l'aéroport, Bruno s'envole seul pour une semaine dans un club de vacances All Inclusive aux Caraïbes. Une mauvaise nouvelle n'arrivant jamais seule, il va devoir partager sa chambre avec Jean-Paul Cisse, éternel célibataire très envahissant... Avec Lulu, retraitée et veuve très open, Caroline, Manon et Sonia, trois copines venues enterrer le divorce de la première et Edouard Laurent, le directeur du Club Caraïbes Princess, les deux vacanciers ne sont pas prêts d'oublier leur séjour sous le soleil des cocotiers.
© Praesens-Film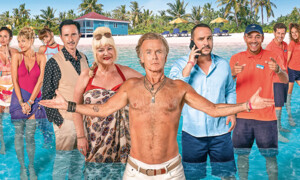 to win:
5 times 2 places pour découvrir le film dès sa sortie
Quiz question:
Quel célèbre comique et acteur français est à l'affiche de All Inclusive ?
conditions of participation:
No obligatory purchase. No correspondence. All decisions are final. The closing date for entries is 12. February 2019. The winners will be notified in person, and their identities may be publicised. Only one contest entry per person is allowed.