Contest
After the Wedding
Ab dem 19. Februar auf Blu-Ray und DVD!



Ein Film über die wichtigen Themen im Leben: Liebe, Familie, Vergangenheit und dem unausweichlichen Schicksal. Mit den Oscar-Preisträgerinnen Julianne Moore und Michelle Williams. Isabel, hat ihre Erfüllung gefunden: In Calcutta führt sie ein Waisenhaus und opfert sich für ihre Kinder täglich auf. Um ihr Lebenswerk am Laufen zu halten, hat Isabel anscheinend den perfekten Gönner gefunden. Doch bevor sie das Geld definitiv entgegennehmen kann, muss Isabel persönlich nach New York reisen: Die Frau hinter der grosszügigen Spende möchte sie vorab kennenlernen. Theresas Leben könnte unterschiedlicher nicht sein: Sie führt ein millionenschweres Medienunternehmen, besitzt ein Anwesen ausserhalb der Stadt und hat eine perfekte Familie. Als die beiden vordergründig unverbundenen Welten aufeinanderprallen, beginnt eine unerwartete emotionale Reise, die das Leben jedes Involvierten für immer verändern wird. Denn allmählich merkt Isabel, dass diese Begegnung alles andere als zufällig ist...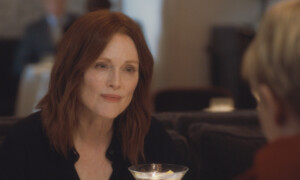 to win:
3 times 1 Blu-Ray zum Film
Quiz question:
Was führt Isabel?
conditions of participation:
No obligatory purchase. No correspondence. All decisions are final. The closing date for entries is 27. February 2020. The winners will be notified in person, and their identities may be publicised. Only one contest entry per person is allowed.