Contest
À couteaux tirés
Au cinéma le 27 novembre!

Célèbre auteur de polars, Harlan Thrombey est retrouvé mort dans sa somptueuse propriété, le soir de ses 85 ans. L'esprit affûté et la mine débonnaire, le détective Benoit Blanc est alors engagé par un commanditaire anonyme afin d'élucider l'affaire. Mais entre la famille d'Harlan qui s'entre-déchire et son personnel qui lui reste dévoué, Blanc plonge dans les méandres d'une enquête mouvementée, mêlant mensonges et fausses pistes, où les rebondissements s'enchaînent à un rythme effréné jusqu'à la toute dernière minute. Réunissant au casting Daniel Craig, Chris Evans, Ana de Armas, Jamie Lee Curtis, Toni Collette, Don Johnson, Michael Shannon, LaKeith Stanfield, Katherine Langford, Jaeden Martell et Christopher Plummer, À COUTEAUX TIRÉS est une réinvention contemporaine du polar à la Agatha Christie nappée d'humour noir.
© 2019 Impuls Pictures AG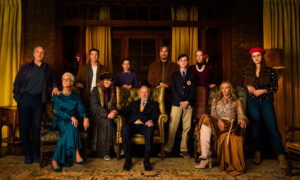 to win:
4 times 1 lot comprenant 2 places de cinema + 1 tee-shirt + 1 stylo en forme de couteau
Quiz question:
Quel est le réalisateur du film 'À couteaux tirés'?
conditions of participation:
No obligatory purchase. No correspondence. All decisions are final. The closing date for entries is 25. November 2019. The winners will be notified in person, and their identities may be publicised. Only one contest entry per person is allowed.