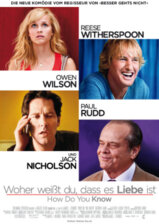 USA 2010
Comedy, Drama, Romance
121min
2.7
Lisa's private life sucks, and she just got cut from the USA softball team.
Too old, the coach says. So for comfort she turns to Matty, a basketball
star and unrepentant Casanova. At the same time, George asks her out on a
date. George has financial problems and is threatened with indictment
because his father's company, which he's running, is caught up in shady
dealings. Lisa and George's date is a disaster, but they still want to see
each other again.
Go to movie review
Release date: 20.01.2011 (German Switzerland) - 26.01.2011 (Romandie)
User Reviews
0 User Reviews

Watchlist
5 user have published their watchlist
Now in cinemas
5 from 77 Films