Early Man
France, UK 2018 – 89min.
Movie Rating
Early Man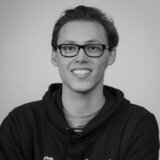 At a time when dinosaurs and mammoths still roamed the earth, a loveable caveman named Dug and his best friend Hognob try to save their tribe from a powerful enemy.
The Aardman studio has become one of the masters of animation thanks to its legendary feature film Chicken Run and the multiple adventures of Wallace and Gromit. Three years after Shaun the Sheep, the team is back with a new animated film: Early Man, as usual using stop motion and clay animation.

Directed by Nick Park (co-director of Chicken Run, among others), Early Man is more proof of Aardman's genius in old-school animation. Technically speaking, it is an impressive tour de force and the main source of the movie's magic. But while the film is visually stunning, its screenplay lacks innovation. Despite some amusing jokes and a few successful scenes, the story has no real ambition. The anachronistic football match between the last representatives of the Stone Age and the first of the Bronze Age is too simple, rather predictable and a bit boring. While the movie will entertain the kiddies, Early Man won't manage to keep the attention of grownups, and that is a shame.
Your rating
Comments
More movie reviews