Sabotage
USA 2014 – 109min.
Movie Rating
Sabotage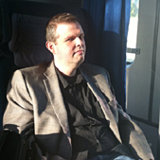 An elite DEA task force goes after a drug cartel. Starring Arnold Schwarzenegger.
Under the leadership of aging boss (Arnold Schwarzenegger), a special ops DEA team takes down a drug cartel and confiscates $10 million of its money. But the cash soon goes missing and the task force is accused of taking it. The investigation reveals no proof and is dropped, but then the team starts getting hit one by one. Is it the cartel getting revenge, or is something else going on?

David Ayer specializes in cop movies that focus on realism. That means Sabotage is not your typical Schwarzenegger action flick, but rather a thriller with dramatic elements which demands something from Schwarzenegger that he's never had to do before: really act.
Your rating
Comments
More movie reviews