Draussen ist Sommer
Germany, Switzerland 2012 – 95min.
Movie Rating
Draussen ist Sommer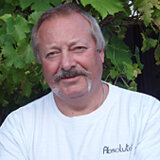 Coming-of-age story: 14-year-old Wanda moves to Switzerland with her family. An adventurous summer begins.
Wounded by the father's affair, a German family of five moves to Switzerland, hoping to reunite in an idyllic setting. But for his wife, 14-year-old Wanda and the rest of the kids, starting over in a foreign country is hard. While their mother hides in bed, Bubi, the youngest, stops talking. His sister, Miss Sophie, becomes belligerent and Wanda has a sexual relationship with a neighborhood boy. In the end, she decides to take her life into her own hands.

Filmmaker Friederike Jehn aroused attention with her short films; Draussen ist Sommer is her first feature. This drama about a family is not spectacular, but it is solid. Jehn's favorite is obviously Wanda, who goes through various stages of puberty before she matures and finds her way back in search of what she lost. 19-year-old Maria-Victoria Dragus (already successful as the minister's daughter in Michael Hanekes Das weisse Band) becomes the crystallization point, the "hero" of the movie, who, as much as she would like to, is unable to call summer back.
Your rating
Comments
More movie reviews