Contest
Tout s'est bien passé
Au cinéma le 29 septembre
À 85 ans, le père d'Emmanuèle est hospitalisé après un accident vasculaire cérébral. Quand il se réveille, partiellement paralysé et dépendant, il demande à sa fille adorée de l'aider à mourir. Emmanuèle et sa sœur sont sous le choc ; elles font tout pour redonner goût à la vie à leur père. Le moindre signe leur donne de l'espoir. Mais en fin de compte, elles doivent se rendre à l'évidence : il ne changera pas d'avis. Leur aide sera une dernière et magnifique preuve d'amour. Le film le plus émouvant de François Ozon, d'après le récit éponyme de l'auteure Emmanuèle Bernheim (1955 – 2017), publié en 2013 chez Gallimard et Grand Prix des lectrices du magazine ELLE en 2014.
© Filmcoopi Zürich AG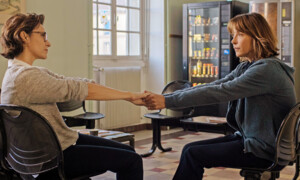 to win:
3 times 2 places pour découvrir le film au cinéma.
Quiz question:
Quel film François Ozon n'a-t-il PAS réalisé?
conditions of participation:
No obligatory purchase. No correspondence. All decisions are final. The closing date for entries is 27. September 2021. The winners will be notified in person, and their identities may be publicised. Only one contest entry per person is allowed.