Contest
Tout le monde debout – Avant-première (LAUSANNE)
Avant-première en présence de Franck Dubosc:
- Lausanne, Pathé Flon
- Mercredi 21 février à 19h15
- 30x2 invitations à gagner !
Les gagnants seront tirés au sort parmi les participants et seront contactés par email le Vendredi 16 Février.
Jocelyn (Franck Dubosc), homme d'affaire en pleine réussite, égoïste et misogyne, lassé d'être lui-même, se retrouve malgré lui à séduire une jeune et jolie femme en se faisant passer pour un handicapé. Jusqu'au jour où elle lui présente sa sœur (Alexandra Lamy) elle-même handicapée. Sortie prévue le le 14 mars 2018.

© Ascot Elite Entertainment Group. All Rights Reserved.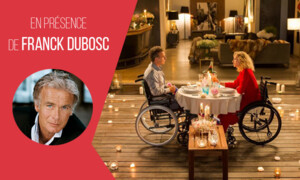 to win:
30 times 2 places de cinéma pour l'avant-première de Tout le Monde Début à Lausanne
Quiz question:
Comment s'appelle la comédie estivale dans laquelle Franck Dubosc interprète le personnage de Patrick Chirac?
conditions of participation:
No obligatory purchase. No correspondence. All decisions are final. The closing date for entries is 16. February 2018. The winners will be notified in person, and their identities may be publicised. Only one contest entry per person is allowed.