Contest
The Pope's Exorcist
Ab dem 6. April 2023 in den Schweizer Kinos.


Beruhend auf den persönlichen Schriften von Pater Gabriele Amorth, dem Chef-Exorzisten des Vatikans (Oscar®-Preisträger Russel Crowe), folgt «The Pope's Exorcist» Amorth bei seinen Ermittlungen rund um die furchteinflössende Besessenheit eines Jungen. Dabei stösst er auf eine jahrhundertealte Verschwörung, die der Vatikan verzweifelt versucht hat geheim zu halten. [Pressetext]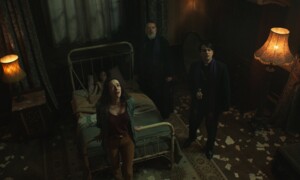 to win:
3 times 2 Kinotickets für den Film
Quiz question:
Was führt ein Exorzist durch?
conditions of participation:
No obligatory purchase. No correspondence. All decisions are final. The closing date for entries is 27. March 2023. The winners will be notified in person, and their identities may be publicised. Only one contest entry per person is allowed.