Contest
The Meg
Ab dem 9. August im Kino!



In dem Film wird ein Tiefsee-Unterwasserfahrzeug, das Teil eines internationalen Meeresbeobachtungsprogrammes ist, von einer riesigen, ausgestorben geglaubten Kreatur angegriffen. Nun liegt das Boot manövrierunfähig im tiefsten Graben des Pazifik – und die Crew ist darin gefangen. Als ihm die Zeit davonzulaufen droht, engagiert ein visionärer chinesischer Meeresforscher (Winston Chao) gegen den Willen seiner Tochter Suyin (Li Bingbing) den Taucher Jonas Taylor (Jason Statham), der Experte für Rettungsaktionen in der Tiefsee ist. Er soll die Crew – und das Meer selbst – vor einer unaufhaltsamen Bedrohung retten: einem prähistorischen, über 20 Meter grossen Hai, einem Megalodon. Was niemand ahnt: Jahre zuvor war Taylor schon einmal dieser furchterregenden Kreatur begegnet. Jetzt, zusammen mit Suyin, muss er sich seinen Ängsten stellen und sein Leben riskieren, um die eingeschlossenen Menschen zu retten und dabei noch einmal dem grössten und schrecklichsten Raubtier aller Zeiten gegenübertreten.

Mehr Informationen zum Film unter www.instagram.com/warnerfox und www.facebook.com/WarnerBrosSchweiz.

© 2018 Warner Bros. Ent. All Rights Reserved.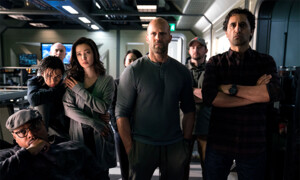 to win:
3 times 1 Goodie-Set mit Bildschirmreiniger, Unisex T-shirt, Shot glass und Buch
Quiz question:
Um welche Art von Hai handelt es sich beim über 20 Meter grossen Hai in «The Meg»?
conditions of participation:
No obligatory purchase. No correspondence. All decisions are final. The closing date for entries is 14. August 2018. The winners will be notified in person, and their identities may be publicised. Only one contest entry per person is allowed.