Contest
The Good Liar
Ab dem 28. November im Kino!



Der professionelle Hochstapler Roy Courtnay (McKellen) kann sein Glück kaum fassen, als er online die Bekanntschaft der betuchten Witwe Betty McLeish (Mirren) macht. Als Betty ihm die Türen zu ihrem Zuhause und ihrem Leben öffnet, stellt Roy erstaunt fest, dass er sich zu ihr hingezogen fühlt, was den eigentlich narrensicher geplanten Betrug in die tückischste Gratwanderung seines Lebens verwandelt.

Mehr Informationen zum Film unter www.instagram.com/warnerbros_ch
und www.facebook.com/warnerbrosschweiz/.

© 2019 Warner Bros. Ent. All Rights Reserved.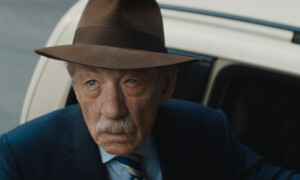 to win:
3 times 1 Goodie-Set mit 1 Sporttasche, 1 Tasse, 1 Webcam Cover und 1 Handyhalter
Quiz question:
Wer verkörpert die Witwe Betty McLeish ?
conditions of participation:
No obligatory purchase. No correspondence. All decisions are final. The closing date for entries is 11. December 2019. The winners will be notified in person, and their identities may be publicised. Only one contest entry per person is allowed.