Contest
The Death of Stalin
Ab jetzt auf Blu-ray und DVD!



Wir schreiben das Jahr 1953. Joseph Stalin scheint gesund – wenn auch paranoid – zu sein, terrorisiert sein Umfeld, lässt verdächtige Andersdenkende umbringen und versetzt selbst seine Spiessgesellen in Nervosität. Es läuft perfekt! Doch als der Diktator eines Morgens nach einem Schlaganfall in seinem Büro aufgefunden wird, bricht das Chaos los: Die alten Komplizen, die unter ihrem Chef gebuckelt hatten, buhlen fortan mit Verschwörungen und Rempeleien um die Macht. Alle Top-Lakaien sind mit von der Partie und kämpfen an vorderster Front – der ängstliche Malenkow, der schlaue Chruschtschow, der verwirrte Molotow, der aggressive Schukow und der verkommene Beria. Nicht zu vergessen Stalins betrunkener Sohn Vasily und seine verlebte Tochter Svetlana. Sie alle agieren als tölpelhafte Anwärter, die für das Amt gänzlich ungeeignet sind – es aber alle trotzdem um jeden Preis wollen.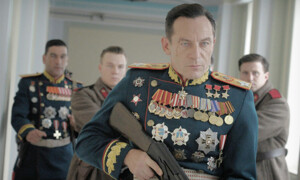 to win:
3 times 1 DVD, 3 x 1 Blu-Ray für den Film
Quiz question:
Wie wird Stalins Sohn im Film dargestellt?
conditions of participation:
No obligatory purchase. No correspondence. All decisions are final. The closing date for entries is 29. August 2018. The winners will be notified in person, and their identities may be publicised. Only one contest entry per person is allowed.