Contest
Shazam! La rage des Dieux
À l'occasion de la sortie du film le 29 mars prochain, gagnez 10 invitations pour découvrir « Shazam! La rage des Dieux » au cinéma !
New Line Cinema présente SHAZAM! FURY OF THE GODS, la suite des aventures du jeune Billy Batson qui, en prononçant la formule magique « Shazam ! », se transforme en son alter ego, le super-héros Shazam, et adopte un corps d'adulte. Billy Batson et ses copains apprennent encore à concilier leur vie d'ados avec leurs responsabilités de super-héros dès lors qu'ils se transforment en adultes. Mais quand les Filles de l'Atlas débarquent sur Terre pour retrouver la magie qu'on leur a volée il y a longtemps, Billy, alias SHAZAM, et sa famille s'engagent dans une bataille destinée à conserver leurs superpouvoirs, à rester en vie et à sauver la planète…

© Warner Bros. Ent. All Rights Reserved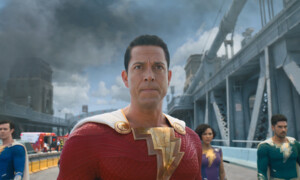 to win:
5 times 2 places pour découvrir le film au cinéma
Quiz question:
Quel mot magique le jeune Billy prononce-t-il pour se transformer en superhéros ?
conditions of participation:
No obligatory purchase. No correspondence. All decisions are final. The closing date for entries is 26. March 2023. The winners will be notified in person, and their identities may be publicised. Only one contest entry per person is allowed.