Contest
Robin Hood
Ab dem 10. Januar im Kino!



Robin of Loxley hatte in jahrelangen Kreuzzügen seine Geschicklichkeit und Tapferkeit bewiesen und sich bei Feind wie Freund Respekt und Bewunderung verdient. Nun kehrt er nach England zurück. In Nottingham angekommen, findet Robin sein Anwesen verwüstet und seine Nachbarn verarmt vor, das Werk des skrupellosen Sheriffs von Nottingham. Als Robin erfährt, dass er fälschlicherweise für tot erklärt wurde und sich seine langjährige Liebe, Lady Marian, daraufhin mit dem lokalen Politiker Will Tillman eingelassen hat, startet er einen verdeckten, persönlichen Feldzug gegen den korrupten Sheriff und die Kirche. Robin setzt seine todbringenden Bogenschiesskünste ein, um die für die Schatullen des Sheriffs eingetriebenen Steuergelder abzufangen und sie anonym an Marian zu übergeben, die in der Zwischenzeit zur Anführerin eines geheimen Volksaufstands geworden ist.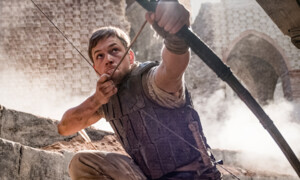 to win:
3 times 2 Tickets für den Film
Quiz question:
Wer ist Robins langjährige grosse Liebe?
conditions of participation:
No obligatory purchase. No correspondence. All decisions are final. The closing date for entries is 11. January 2019. The winners will be notified in person, and their identities may be publicised. Only one contest entry per person is allowed.