Contest
«Orphan: First Kill»
Ab dem 27. Oktober 2022 in den Schweizer Kinos.


Als den jungen Eltern Tricia (Julia Stiles) und Allen (Rossif Sutherland) mitgeteilt wird, dass ihre vermisste Tochter Esther (Isabelle Fuhrman) aufgetaucht ist, können sie ihr Glück kaum fassen. Obwohl sie versuchen das Mädchen behutsam in ihre Familie zu integrieren, müssen sie feststellen, das nichts wie zuvor ist.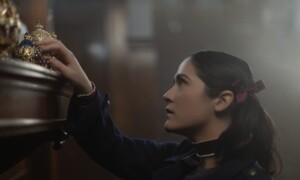 to win:
3 times 2 Kinotickets für «Orphan – First Kill»
Quiz question:
Wie heisst die Schauspielerin, die die vermisste Tochter Esther spielt?
conditions of participation:
No obligatory purchase. No correspondence. All decisions are final. The closing date for entries is 24. October 2022. The winners will be notified in person, and their identities may be publicised. Only one contest entry per person is allowed.