Contest
On the Basis of Sex
Ab dem 14. August auf Blu-Ray und DVD!



1956 ist Ruth Bader Ginsburg eine von nur neun Frauen in ihrer Klasse an der Harvard Law School. Obwohl überaus talentiert, wird Ruth als Bewerberin von allen Kanzleien aufgrund ihres Geschlechts abgelehnt. Stattdessen ergreift sie die Gelegenheit und wird die erste Jura-Professorin an der Rutgers University. Mit Einsetzen der sozialen Revolution in den 1960er-Jahren erwirbt Ruth ein einzigartiges Fachwissen zum Thema Ungleichbehandlung von Mann und Frau. Inspiriert von der Arbeit der Rechtsanwältin Dorothy Kenyon übernimmt sie in der Folge einen kontroversen Fall von Geschlechterdiskriminierung. Mit der Unterstützung ihres Ehemanns bereitet Ruth das für sie wegweisende Gerichtsverfahren vor. Denn weder die plötzliche Entmutigung durch ihre Mentorin noch die Missbilligung der Gegenpartei können sie von ihrem Kampf und dem Aufstieg an den Obersten Gerichtshof abhalten.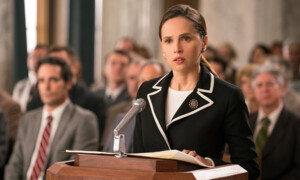 to win:
3 times 1 Blu-Ray zum Film
Quiz question:
Wo unterrichtete Ruth Bader Ginsburg?
conditions of participation:
No obligatory purchase. No correspondence. All decisions are final. The closing date for entries is 16. August 2019. The winners will be notified in person, and their identities may be publicised. Only one contest entry per person is allowed.