Contest
Midsommar
Ab dem 3. Oktober im Kino!



Obwohl ihre Beziehung kriselt, schliesst sich Dani ihrem Freund Christian auf einen Sommertrip in einen kleinen Ort in Schweden an. Gemeinsam mit Christians Clique sind sie zu einem einmaligen Mittsommerfestival eingeladen. Doch der anfänglich idyllische Eindruck der abgelegenen Gemeinschaft trügt, die freundlichen Dorfbewohner verhalten sich nach und nach merkwürdiger: Sie bereiten sich auf ein besonderes Mittsommer-Ritual vor, das nur alle 90 Jahre zelebriert wird. Was als puritanisches Fest der Liebe und Glückseligkeit beginnt, nimmt bald eine unheimliche Wendung, die das sonnengeflutete Paradies bis in die Eingeweide erschüttert.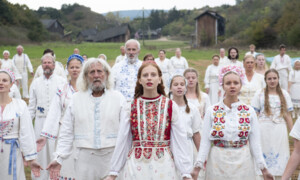 to win:
3 times 2 Tickets für den Film
Quiz question:
Wie heisst Ari Asters letzter Film, der ebenfalls im Horror zu verorten ist?
conditions of participation:
No obligatory purchase. No correspondence. All decisions are final. The closing date for entries is 1. October 2019. The winners will be notified in person, and their identities may be publicised. Only one contest entry per person is allowed.