Contest
Lloronas Fluch
Ab dem 18. April 2019 im Kino!



La Llorona. Die weinende Frau. Eine grausige Erscheinung, gefangen zwischen Himmel und Hölle, einem fürchterlichen Schicksal ausgeliefert, das sie selbst verschuldet hat. Seit Generationen löst allein die Erwähnung ihres Namens in aller Welt Entsetzen aus. Einst hat sie ihre Kinder in einem eifersüchtigen Wutanfall ertränkt und sich dann selbst, beherrscht von ohnmächtigem Schmerz, in den reissenden Strom hinterhergestürzt. Inzwischen weint sie Tränen der Ewigkeit. Sie sind tödlich, und wer ihre nächtliche Todesklage vernimmt, ist verloren. La Llorona streift durch die Finsternis und macht Jagd auf Kinder, die ihre eigenen ersetzen sollen. Im Laufe der Jahrhunderte ist sie immer unersättlicher geworden … und ihre Methoden sind immer grausamer. Im Los Angeles der 1970er-Jahre schleicht La Llorona durch die Nacht – und verfolgt ihre kindlichen Opfer. Als eine Sozialarbeiterin die unheimliche Warnung einer verstörten Mutter ignoriert, die man der Gefährdung des Kindeswohls verdächtigt, wird sie mit ihren kleinen Kindern in eine düstere, übernatürliche Welt hineingezogen. Um La Lloronas tödlichem Zorn zu entkommen, könnte ein desillusionierter Pfarrer ihre letzte Hoffnung sein: In der Grauzone zwischen Angst und Glauben versucht dieser mit mystischen Praktiken, das Böse in seine Schranken zu weisen.

Mehr Informationen zum Film unter www.instagram.com/warnerfox_ch
und www.facebook.com/warnerbrosschweiz/.

© 2019 Warner Bros. Ent. All Rights Reserved.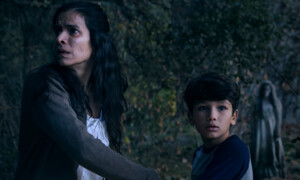 to win:
3 times 1 Goodie-Set mit Lentikular-Buchzeichen, Salbei-Bündel, farbwechselnde Thermo-Tasse, Damen-Shirt
Quiz question:
Was macht la Llorona?
conditions of participation:
No obligatory purchase. No correspondence. All decisions are final. The closing date for entries is 18. April 2019. The winners will be notified in person, and their identities may be publicised. Only one contest entry per person is allowed.