Contest
Life itself
Ab dem 5. Februar auf Blu-Ray und DVD!



Von den hektischen Strassen Manhattans bis in eine idyllische Olivenplantage in der spanischen Provinz erstreckt sich diese orts- und generationenübergreifende Liebesgeschichte. Ihren Anfang findet sie auf dem Campus einer New Yorker Universität, wo die aufgeweckte Studentin Abby ungeduldig darauf wartet, dass der charismatische Will sie endlich auf ein Date einlädt. Doch Will möchte den richtigen Moment erwischen – denn er weiss: Abby ist die Frau seines Lebens. Als die beiden heiraten und sie schwanger wird, scheint das Glück perfekt. Doch Abby fühlt sich von Wills Liebe zunehmend erdrückt ... Regisseur Dan Fogelman, der sich mit der Serie THIS IS US einen grossen Namen gemacht hat, liefert mit dem grossartig besetzten Ensemblefilm LIFE ITSELF ein so herzerwärmendes wie überraschendes Epos über Liebende, die alle durch ein schicksalhaftes Ereignis miteinander verbunden und verwoben sind.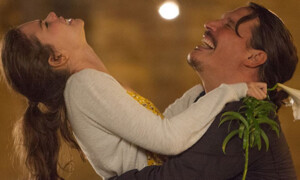 to win:
3 times 1 Blu-Ray zum Film
Quiz question:
Wo findet die Liebesgeschichte in «Life itself» ihren Anfang?
conditions of participation:
No obligatory purchase. No correspondence. All decisions are final. The closing date for entries is 17. February 2020. The winners will be notified in person, and their identities may be publicised. Only one contest entry per person is allowed.