Contest
Les Vedettes
Au cinéma le 16 février !
Daniel, un chanteur raté, travaille dans un magasin d'électroménager. Prêt à tout pour rembourser ses dettes et se retrouver sous le feu des projecteurs, il décide d'utiliser Stéphane, un collègue naïf et prétentieux, pour participer à des jeux télévisés.
© JMH Distributions SA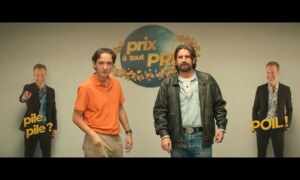 to win:
5 times 2 tickets pour découvrir le film au cinéma
Quiz question:
Quelle émission a fait connaitre le duo composé de Grégoire Ludig et David Marsais ?
conditions of participation:
No obligatory purchase. No correspondence. All decisions are final. The closing date for entries is 11. February 2022. The winners will be notified in person, and their identities may be publicised. Only one contest entry per person is allowed.