Contest
La Méthode Williams
Au cinéma le 22 décembre !
«La Méthode Williams» est basé sur l'histoire vraie du père des légendaires tenniswomen Venus (Saniyya Sidney) et Serena Williams (Demi Singleton). Pour permettre à ses filles de s'imposer au sommet, Richard Williams (Will Smith) a dû surmonter d'énormes obstacles. Compton (Californie) n'est pas une localité connue pour engendrer des stars de tennis. Mais Richard a un plan. Il débarrasse le court local des seringues de toxicomanes et se bat courageusement contre les gangs qui revendiquent cet endroit délabré comme leur territoire. Luttant inlassablement contre les barrières séculaires liées à la race et à la classe sociale, il tente de donner une chance à ses filles, leur apprenant les subtilités d'un sport qu'il n'a jamais pratiqué. Au fond de lui, il est en effet convaincu qu'un avenir glorieux les attend.

© Sony Pictures Releasing Switzerland GmbH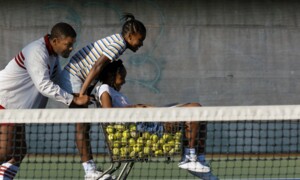 to win:
5 times 2 places pour découvrir le film au cinéma
Quiz question:
De quel duo de tennis le film se fait-il le récit ?
conditions of participation:
No obligatory purchase. No correspondence. All decisions are final. The closing date for entries is 16. December 2021. The winners will be notified in person, and their identities may be publicised. Only one contest entry per person is allowed.