Contest
La fameuse invasion des ours en Sicile
Au cinéma le 9 octobre

Tout commence le jour où Tonio, le fils du roi des ours, est enlevé par des chasseurs dans les montagnes de Sicile... Profitant de la rigueur d'un hiver qui menace son peuple de famine, le roi Léonce décide d'envahir la plaine où habitent les hommes. Avec l'aide de son armée et d'un magicien, il réussit à vaincre et finit par retrouver Tonio. Mais il comprend vite que le peuple des ours n'est pas fait pour vivre au pays des hommes...
© JMH Distributions SA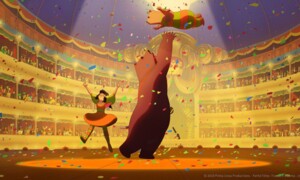 to win:
10 times 1 livre du film
Quiz question:
Quel est le réalisateur du film La Fameuse Invasion Des Ours en Sicile?
conditions of participation:
No obligatory purchase. No correspondence. All decisions are final. The closing date for entries is 15. October 2019. The winners will be notified in person, and their identities may be publicised. Only one contest entry per person is allowed.