Contest
Jumanji: The Next Level
Ab dem 11. Dezember im Kino!



Die Gang ist wieder da in JUMANJI: THE NEXT LEVEL, aber das Spiel hat sich verändert. Als sie nach Jumanji zurückkehren, um einen aus ihrer Gruppe zu retten, stellen sie fest, dass dort nichts mehr so ist wie erwartet. Die Spieler müssen in bislang unbekannten und unerforschten Gegenden völlig neue Herausforderungen meistern. Um dem gefährlichsten Spiel der Welt wieder zu entkommen, müssen sie staubtrockene Wüsten und schneebedeckte Berge durchqueren.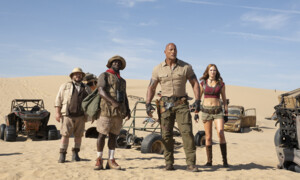 to win:
3 times 2 Tickets für den Film
Quiz question:
Wer oder was ist Jumanji?
conditions of participation:
No obligatory purchase. No correspondence. All decisions are final. The closing date for entries is 9. December 2019. The winners will be notified in person, and their identities may be publicised. Only one contest entry per person is allowed.